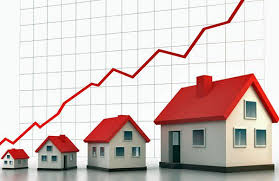 Bearing out one of the predictions made by economists at the end of 2017, mortgage rates have slowly been on the rise since the beginning of the year. The interest rate for a 30-year-fixed home loan has risen about ½% since January 1st, and is now around 4.5%. There is no indication how long this upward trend will continue.
Historically, the rate for a 30-year-fixed mortgage has been at least 5% - as a matter of fact, for 38 of the last 46 years, the rate has been over 5%. In other words, home buyers have been very fortunate in recent years to be able to get loans with incredibly low rates. But knowing all this doesn't make it any easier for the current home buyer who faces climbing interest rates. Here is a look at what increasing rates can mean for the buyer.
Let's consider a home offered for sale for $1,000,000. The buyer can put 20% down and will take a 30-year-fixed loan for the remainder - $800,000. At a rate of 4.00%, the buyer will pay $4,960.99/month - $3,819.32 for mortgage, $1,041.67 for property taxes (figured at 1.25%), and $100 for hazard insurance (this amount may vary slightly). At 4.50%, this monthly payment will increase to $5,195.15/month, and at 4.75% it becomes $5,314.85/month. The buyer will pay $235 more per month with a 0.5% higher interest rate, or a total of $2820 more per year. Over the life of the loan, the difference between a 4.5% loan and one with a rate of 4.75% (only ¼% difference) is a whopping $43,089 in mortgage payments alone.
Given this information, it seems prudent not to wait to purchase if you are considering buying a home this year. Since no one knows how long or high mortgage rates will rise, buyers who wait may be costing themselves money in the long run. Darlene Espinoza of CrossCountry Mortgage, Inc. notes that several buyers who were preapproved for loans toward the end of 2017 waited to "pull the trigger" on a home. Now they must shop for less house to stay within their preapproved budget due to the higher mortgage rates. If they'd purchased a home a few months ago, they would have been able to buy more house and would now have equity built up in that house.
What do rising rates mean if you are considering selling your home? If you are planning to sell your home in the near future, it makes sense to list it now before rates rise, which could not only thin the number of buyers but also push prices down. Buyers are currently chomping at the bit, as low inventory of homes for sale continues in most major markets.
The spring market is heating up and homes that are well priced are selling in seven to ten days. Most homes are receiving multiple offers, over the asking price. If you plan to sell your home, don't wait. There are so many external factors that could affect the market.