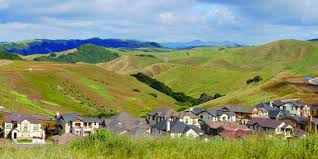 Cities across California were recently ranked on a combination of affordability, quality schools, future growth and prosperity, and family-friendliness. Of the 334 locations included in the study conducted by NerdWallet, a personal finance website, Dublin ranked 9th overall, putting it in the top 3% of the best places in the state for young families!
The study looked at locales of 20,000 people or more. Interestingly, while the top locations have median home prices higher than the median for the entire study, according to Nerd Wallet, "the most expensive places don't score well in the overall analysis: Of the cities with the highest home values, none ranks higher than 103rd out of 334 places." The company found that Dublin's affordability stems from its median family income of $133,080 (21st-highest) combined with a median home value of $632,200 (54th-highest).
Dublin's burgeoning growth is evidenced in myriad ways. It ranked 3rd in population growth of California cities from 2016-17. According to Nielsen Site Reports, the city's population is up 24% since 2010 (46,036 to 57,043), and is projected to increase another 9.28% by 2022. Remarkably, the median family income growth increased 72% between 1999 and 2015! Commercial and residential development continues to boom, as well. Over 6000 residential dwellings, including single-family detached homes, condominiums, and townhomes, have been completed or are currently under construction in 2017, slated to begin construction in 2018, or have permits waiting for city approval. On the commercial side, many ambitious projects are underway - including two medical centers - or are under review - including a new IKEA store, the 433,000-square foot Zeiss Innovation R&D Center, and Grafton Plaza, which will be home to a 127-room hotel.
There is no doubt Dublin is family-friendly. As far as crime goes, Dublin ranks in the top 80 safest California cities of 10,000 people or more, according to a 2017 Safewise.com report. The BART line runs through Dublin, making car-free travel around the East Bay and into the city ultra-convenient. There are numerous trails, open spaces, and parks, including the 654-acre Dublin Hills Regional Park. Every year Splatter brings families together, in a festival of art, food, wine and activities. And no one can deny the beautiful views most neighborhoods enjoy, given the city's unique topography.
The Dublin Union School District has been highly ranked by Niche.com, which places it at #32 of 474 of the best school districts in California, and the 4th of 18 districts in Alameda County. This ranking is based on both public records and reviews. Despite the district's good standing, overcrowding has become a problem due to the city's population explosion. Construction of a new public K-8 school, Cottonwood Creek Elementary, will be completed for the 2018-19 school year. Bond money in the amount of $283,000 was secured by a 2016 vote to build a new 2500-student high school on Dublin's east side. Building plans have not yet been solidified, but the hope is that construction will begin early next year.