To remodel or not to remodel? That is the question a lot of homeowners ask themselves when deciding whether renovation is a financially feasible proposition. The first thing to consider is the motivation for the facelift – is this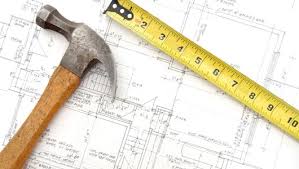 something necessary to improve your quality of living or are you looking to better your chances of selling your house in the near future at an increased profit? This blog will address the latter, as a recently published article has given some insight as to which remodeling projects will reap the most financial benefit in 2018. Spoiler alert: Bay Area residents who renovate this year can expect to turn a profit at the time of sale!
Remodeling magazine's "2018 Cost vs. Value Report" lists 21 common remodeling jobs and estimates each one's cost and return on investment for common renovations projects in 149 U.S. metro areas. The return on investment is estimated assuming the house is sold within one year of upgrading. Nationwide, all renovation jobs included in the report offered an average return on investment of 56.8% in 2017, down a bit from the previous year. On a national scale, no remodel job is expected to recoup 100% of its cost; the closest is an upscale garage-door replacement, costing an average of $3,470 and repaying about $3,411, for a 98.3% investment.
Considering only the West Coast region, all 2018 home improvement projects are expected to reap an average of 63.9% of their costs at the time of resale. At the city level, 62% of U.S. cities have at least one job with a 100% or greater return on investment. Most of these cities are on the West Coast. Remodeling notes that high-tech job centers offer the most bang for the buck as far as recouping costs of renovation. In the Bay Area, a whopping 18 of the 21 tracked projects undertaken in the San Jose metro area are expected to return more than 100% of their costs. In San Francisco, that ratio is 13 of the 21 projects; in Santa Rosa, it's 12 out of 21.
Which specific home improvement project offers the best payback in the Bay Area? For those homeowner's in metro San Jose, it's a manufactured stone veneer, which recoups an astounding 233% of its cost of $8,995. An upscale garage door replacement in San Jose is expected to recover 208% of the $3,759 price to complete. In San Francisco, the number one renovation job as far as return on cost is an upscale garage door (179%), followed by the manufactured stone veneer (160%). Stone veneer and a wooden deck addition rank highest in Santa Rosa (264% and 184%, respectively).
All this being said, most exterior projects are undertaken once the seller has the inside of the home upgraded adequately. In the Bay Area, a minor kitchen remodel job costs around $27,478, and the seller can expect a return of about 127%. Similarly, a bathroom remodel runs around $25,223 with an expected return on resale of around 121%. Both of these investments remain profitable in the Bay Area, while nationwide the average expected return for these jobs is 81% and 54%, respectively.
The report also shows that more expensive home renovations don't necessarily mean larger profits. Of the three six-figure projects on the list for San Jose, only one offers an expected return of over 100%. In San Francisco and Santa Rosa, none of the projects costing over $100,000 are projected to be profitable upon resale.