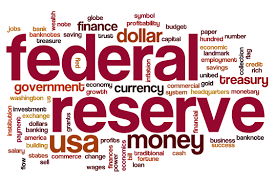 Our new Federal Reserve chairman, Jerome H. Powell, announced a raise in the interest rate today and said to expect two more increases this year. He went on to say this interest rate hike is a clear indication of a strong economy
The Feds optimism about the economy is likely to translate into higher borrowing costs for cars, mortgages and credit cards over the next year. The central bank may raise rates higher than predicted this year.
"The decision you see today is another sign that the U.S. economy is in great shape," Mr. Powell said after the Fed's two-day policy meeting. "Most people who want to find jobs are finding them."
Unfortunately, wage growth is slow for most American workers. Any wage increase has been wiped out by the higher cost of consumer goods as suggested by the latest Consumer Price Index data. When asked about this the Fed Chief said it was "a bit of a puzzle" but suggested wage growth would normalize and the economy strengthens.
Powell went on to say the tax cuts and government spending increase signed into law by President Trump last year were lifting economic growth at least in the short term. He also dismissed the concerns about Trump's trade policies including tariffs on steel and aluminum saying the Fed had not seen any data yet indicating an impact.
In a statement released at the end of the two-day meeting, Fed officials noted that economic activity had been rising "at a solid rate" — a change from their May statement, when they called the rate "moderate." Fed officials now expect the economy to grow at a 2.8 percent rate this year, up from a 2.7 percent forecast in March. The unemployment rate is now projected to fall to 3.6 percent by year's end, down from a forecast of 3.8 percent in March.
How to keep the economy moving along is a tricky balancing act for the Federal Reserve. Raising rates too quickly could cause the economy to stall. On the other hand not raising them fast enough could allow inflation to spiral out of control driving up prices and potentially pushing the economy into a recession.
This was the second news conference for Mr. Powell since taking over as chairman. He made several clear breaks from his predecessors, in a series of changes around process and communication that could ultimately have big implications for monetary policy and the economy.
He began his news conference saying he would explain what the Federal Reserve had done and why in "plain English." That is quite a change from his two predecessors, Janet Yellen and Ben Bernanke who both had long prepared statements filled with monetary jargon. In addition, he announced he would be holding a news conference after every Fed policy meeting starting in January. Currently, news conferences are held only after four of the eight annual meetings. He said this is not signaling a change in the direction of policy. It does opens up more flexibility for Fed as it set interest rate policy.