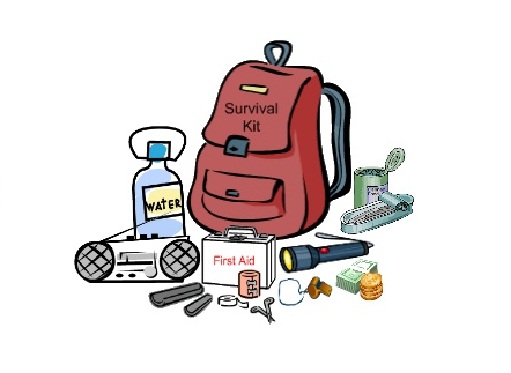 There's been a little extra shaking going on in the Bay Area over the past few weeks, including a magnitude 4.4 quake that hit near Berkeley on January 4th during the wee hours of the morning. Even though a lot of us slept through the event, it does serve to remind us that we live in one of the most active earthquake zones on the planet. In order to manage living here, it's true we must push this fact from our daily consciousness, but we should do what we can to prepare in case the "big one" does hit.
One way is to keep an earthquake-preparedness kit standing by. What should you put in your kit? Here's a common-sense list of supplies to put together:
Water – one gallon per person, per day (3-day minimum, 2-week preferred)
Food – nonperishable, easy-to-prep meals (3-day minimum, 2-week preferred)
Flashlight, batteries
Radio, batteries
First-aid kit
Medications (7-day supply)
Multipurpose tool, pliers, can opener
Sanitation and personal hygiene supplies
Copies of personal documents (medication list, medical info, bank account numbers, computer passwords, inventory of valuable household goods, important telephone numbers, proof of address, deed/lease to home, passports, birth certificates, insurance policies)
Cell phone chargers and cables
Family and emergency contact info
Extra cash
Blankets
Baby supplies (bottles, diapers, formula, baby food)
Games/activities for children
Extra set of house and car keys
Matches, duct tape, scissors
Bleach with 5.25% sodium hypochlorite to kill microorganisms in water (6 to 8 drops/gallon – water should have a slight bleach odor after 30 minutes)
If you have pets, add:
Pet food and water, bowls, cat litter
Photos of pet(s) in case they get lost
Collars, leashes, ID's, carriers, harnesses
Just having this kit standing by will afford you some peace of mind. Remember to change water every six months, and restock food supply once a year. Choose ready-to-eat canned meats, fruits and veggies, canned juices, milk and soups, and high-energy foods like peanut butter, granola bars and trail mix. Store your kit in the garage, but make sure not to pile other things on top of it. Otherwise, keep it in a closet near the living room or bedroom, or near the front door, so it's easy to grab on your way outside. You should consider having an earthquake kit for your car and at your workplace, as well.
You and your family should know what to do as a quake strikes, and after it is over. If you are inside, this can be summed up as: DROP, COVER, AND HOLD ON
DROP: Wherever you are, drop to your hands and knees, which protects you from being knocked down and allows you to remain low and crawl to shelter.
COVER: Use an arm to cover your head and neck. Crawl underneath any nearby sturdy desk or table, or next to an interior wall that is not near windows. Stay on your knees and bend to protect vital organs.
HOLD ON: Wait until the earthquake is over.
If you are outside when a quake hits, stay there. Move away from buildings, streetlights, and utility wires. Once in the open, stay there until the shaking stops. The greatest danger exists directly outside buildings, at exits and alongside exterior walls.
Make plans with family members on how and where to reconnect after an earthquake. Pick a place to meet. Designate a contact person who lives out of the area. Make sure all family members have a list of important contact phone numbers. Think about where you will go immediately after a quake if your home is not livable. Know about your children's school or day care earthquake plan. Keep emergency-release cards up-to-date. Keep copies of essential documents in a secure, waterproof container in your earthquake-preparedness kit.